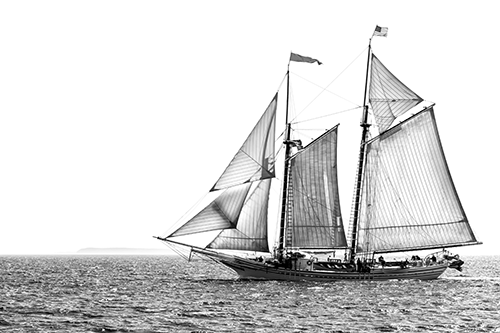 Facts About Ship Bottom
Incorporated in 1925
Year 'Round Population 1156 per 2010 Census
Summer Population: Approximately 20,000
Size: .71 Square Miles; 454.40 Acres
Ocean Frontage: 1.36 Miles
Ship Bottom is often referred to as the "Gateway to Long Beach Island" because of the Causeway linking the Borough to the mainland.
Naming of Ship Bottom
Ship Bottom is one of the oldest place names on Long Beach Island. According to the local historian John Bailey Lloyd, author of "Six Miles at Sea," the name dates from an unusual shipwreck that occurred in March, 1817. The captain of a schooner heading south was navigating through a thick fog when he heard cries from the direction of the shoreline.  Encountering a schooner heading north, he alerted Captain Stephen Willets of Tuckerton that there might be a ship in trouble near the shore.  Although Willets and his crew could see nothing in the fog, nor could they hear anything but the clang of their own ship's bell, they rowed along the outer bar for several hours searching for the endangered ship.  Finally a dark shape appeared–the hull of a ship overturned in the shoals. Corpses hung from the rigging and bobbed in the frigid sea.  As one of Willets' men climbed onboard the beached schooner, he heard a noise under his feet–someone tapping the inside of the barnacled hull. With an ax, Willets chopped a hole in the ship's bottom near the keel and, after much struggling, freed the young woman trapped inside. She spoke no English.  But after being taken ashore, she expressed her gratitude by drawing a cross of thanks in the sand. No one knows her name or the name of the ship because they were never recorded. But the place of the shipwreck and the rescue became known as "Ship Bottom." Ship Bottom became Life Saving Station #20 in 1872, and the first permanent dwelling was established in 1898 by Captain Wesley Truex, keeper of the station. A community rapidly grew up around the unit. On January 18, 1910, the Italian boat Fortuna ran aground on the 16th Street beach during a thick fog. The captain and crew were rescued, but the ship capsized in the soft sand. The wrecked Fortuna lay on its side on the Beach Arlington beach during most of 1910, until it was cut up for salvage. The abandoned anchor was recovered by many hard-working volunteers and now stands in front of the Ship Bottom Borough Hall to honor the maritime history of our Island. The anchor is maintained by Mike of Mayetta Painting and Staining. Eventually the towns of Bonnie Beach, Bonnet Beach, Edgewater Beach, Beach Arlington and Ship Bottom collaborated to form the borough on May 25, 1925. The town was known as Ship Bottom-Beach Arlington until 1947 when the name was changed to Ship Bottom.