Daily, Weekly and Seasonal Badges are available for purchase at the beach only, via cash, check and Viply app.
**Beach Badges are required for beach use starting June 20, 2020**
The badges may be purchased:
With check (include phone number), money order, cash. OR USE VIPLY APP
Via our Viply app (there is an additional fee to use the app and badges can be picked up either at the Borough Hall or by any badge attendant in season)
Senior Badges are only sold at the Borough Hall between the hours of 10 and 1 PM (must have ID)
*ALL BADGE SALES ARE FINAL** NO REFUNDS** MAKE SURE YOU ARE BUYING BADGES FOR THE CORRECT TOWN!*
BEACH BADGES ARE REQUIRED JUNE 20TH THOUGH LABOR DAY AT ALL BAY AND OCEAN BEACHES.
BADGE PRICES FOR 2020
Pre-Season– $35.00 (until May 31)
Seasonal– $45.00 (As of June 1)
Weekly– $25.00
Daily– $10.00
Senior Badge (65+)– $10.00 Must be present to purchase with ID
**Veterans do not need a beach badge. Bring your Veteran ID with you to the beach and show it to the badge checker** Active Military and their imediate family do not need a beach badge. Bring your Military ID
Children 12 and under do not need a Beach Badge.
BEACH WHEELS! (click here for more information)
Beach Wheels for handicapped access to the beach are available at Beach Operations Headquarters on 26th Street. Please call Ship Bottom Beach Patrol to reserve in advance (609) 494-2171-IN SEASON
Call (609) 494-9481 OFF SEASON.
BEACHES WITH HANDICAPPED RAMPS 4TH-8TH-9TH-14TH-15TH-19TH-20TH-21ST-25TH STREETS.
LIFEGUARDS ARE ON DUTY FORM 10AM TO 6PM IN SEASON!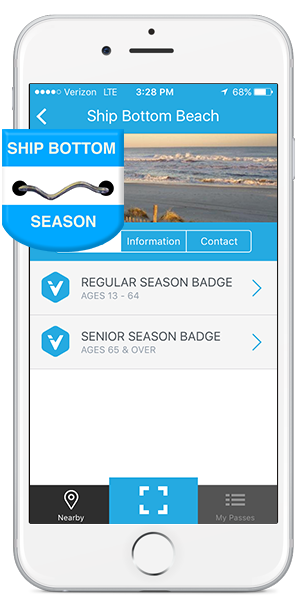 Purchase Beach Badges
Purchase and reserve beach badges via the Viply app and then pick up your physical badge(s) at the Ship Bottom Municipal Offices. After June 14th, you need to pick up your badges by any Ship Bottom beach attendant. Simply scan-in and get your physical badge(s).
For Seniors Ages 65 +: $10 – BADGES CAN ONLY BE PICKED UP AT THE MUNICIPAL OFFICES. Simply scan-in and get your physical badge(s).  EACH SENIOR LISTED UNDER PURCHASE MUST BE PRESENT AT PICK-UP & SHOW ID.
​Please note there is an additional service charge to purchase by credit card.
Download the free Viply app on your iPhone or Android device.
How it works:
Download the free Viply app from iTunes or Google Play.
Purchase your badge(s) passes.
You must pick up your physical badge(s) at the locations listed above.
At pick up, TAP app's 'Scan Now' button or icon, point at QR code on display by attendant to validate purchase.
Note: Your credit or debit card will record charges as BT-Ship Bottom. All sales are final. No refunds. For additional questions e-mail support@viplypass.com or call 732-800-1771.
​